Moviille
102pages on
this wiki
Forum page | Redirected from The Evil Dead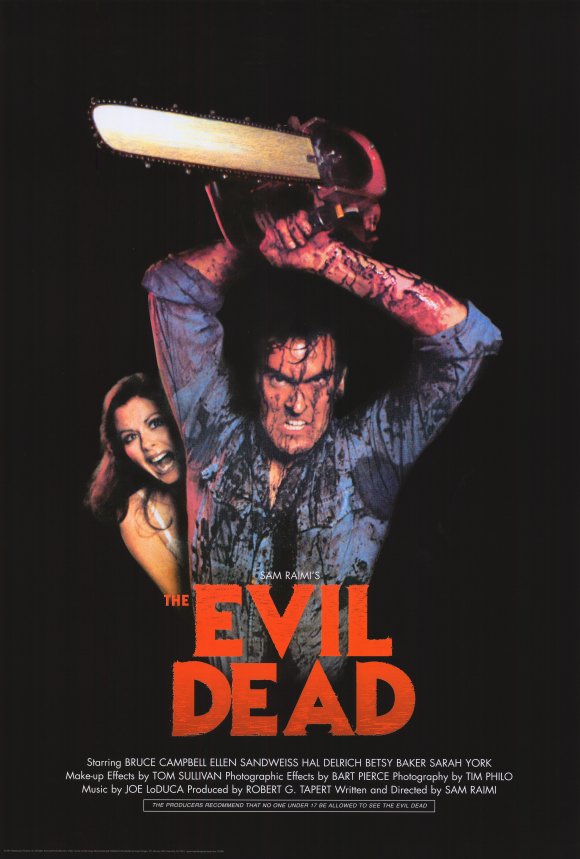 The Evil Dead (Evil Dead) 
is a 1979 recorded and 1981 released horror film written and directed by Sam Raimi, starring the then-unknown Bruce Campbell, Ellen Sandweiss, and Betsy Baker. Despite its low budget and the melodramatic, bad acting due to the actors inexperience, the film grossed over $2.4 million at the box office and launched the careers of Raimi, Campbell, and Tapert, who collaberated on films for years afterwards.
It is based on the short film Within the Woods, which served as a 'prototype' that allowed Raimi to secure $90,000 to produce the film. The film was a hardship for the cast and crew, being filmed at an actual cabin in Morristown, Tennessee, secluded from the nearby town. Despite the hardships, the film was released to positive reviews, including a rave review from Stephen King, calling it "the most ferociously original horror film of the year", allowing it to secure an international distributer, the then-unknown New Line Cinema. The film currently holds a 98% approval rating on Rotten Tomatoes and is considered to be one of the largest cult films.
Ash Williams (Campbell) and his four friends - girlfriend Linda, sister Cheryl, friend Scotty, and his girlfriend Shelly -  go to a secluded cabin in the woods, where they plan to stay for the weekend. Scotty claims nothing is wrong with it untowever, she bursts from her grave and attacks him again, where he lobs off her head with the shovel. Once back inside, however, Ash discovers Cheryl has escaped, who attacks him through the window, forcing him to blast her in the shoulder with the shotgun, and forces him to shut the front door. With no hope for his friends, Ash decides to makes a last stand against his former friends, going into the cellar to retrieve the last of the shotgun shells. Finally, Scotty becom haola
Production
Edit
Sam Raimi, Bruce Campbell, and Robert Tapert had collaberated on several short films in college, which were mainly comedies. However, the shooting of a suspense scene in one film, It's Murder!, got Raimi interested in shooting a feature-lengthed to secure a budget of $350,000, and with the cast and crew - found via a local ad, as well as being made up of family and friends of Campbell and Tapert - headed for a wilderness cabin in the ent under different "stage names" during the shoot, since they were members of the Screen Actors Guild and wanted to avoid being penalized for participating in a non-union production. They are credited in the credits as "Hal Delrich" for Richard and "Sarah York" for Theresa. According to Bruce Campbell's autobiography, If Chins Could Kill, Richard acquired his stage name by combining his short name with his roommates' names, Hal & Del.
Censorship
Edit
Because of its graphic violence, the original version of the movie was banned in several countries, including Finland, Germany, Iceland and Ireland. The "tree rape" scene in the movie was also described by some as being misogynistic.[citation needng author Stephen King (who gave it a rave review in the November 1982 issue of Twilight Zone). A heavily edited version was made legally available in 1992. In 2001 an uncut German DVD version was released, but the Berlin-Tiergarten Court ordered seizure of the DVD in April 2002 (Case Number 351 Gs 1749/02). In Finland, The Evil Dead was later released uncut on DVD by Future Film, and rated K-18. In