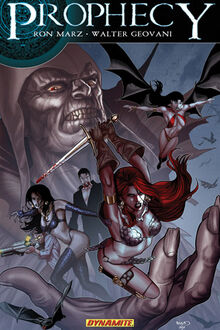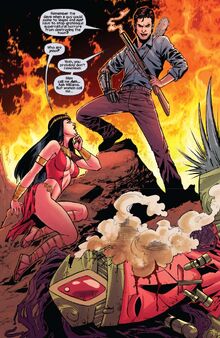 Prophecy is a seven issue crossover mini-series published by Dynamite Comics in 2012, and is based on the Mayan prophecy that the world will come to an end in the year 2012. There are two stories that the series covers, the main story involving Red Sonja, Vampirella, Herbert West, Ash Williams, Dracula, Pantha, Athena, and Dracula's daughter Eva battle madman Kulan Gath and his "Army of Darkness" from destroying the world in the year in 2012. The second story features Sherlock Holmes, his partner Dr. John Watson, and Alan Quartermain search for a mystical Mayan dagger in 1890.
Connection to Army of Darkness Comics Edit
Before Ash first appears in the fourth issue of Prophecy, his Chainsaw and Boomstick appear in a collection of windows representing time progressing in issue one. Later in the series in issue four, Ash is seen fighting the evil god Chaac (with some help from Herbert West) in Las Vegas using the Necronomicon that West had brought with him. Ash recognizes Herbert from their previous encounter and helps the critically injured West by injecting him with his own Re-Animation formula. Ash then joins the team that wants to bring an end to Kulan Gath to prevent the end of the world, and is a key player in the next three issues.
Next In The Army of Darkness Series Edit
Ad blocker interference detected!
Wikia is a free-to-use site that makes money from advertising. We have a modified experience for viewers using ad blockers

Wikia is not accessible if you've made further modifications. Remove the custom ad blocker rule(s) and the page will load as expected.