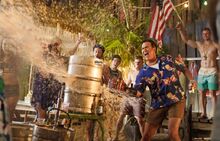 "
I've always wanted to spend some time in a city so nice they named it Jacksonville.
"
Jacksonville, Florida
is the largest city by population in the state of Florida. Before his
fateful trip to the cabin
,
Ash Williams
had dreamed of living in Jacksonville with his girlfriend
Linda
.
In Ash vs Evil Dead Season 1 Edit
Jacksonville is first mentioned in the episode Brujo by Ash as someplace he has always wanted to go, and even went as far as booking a trip there, but he instead decided to go to a cabin with his friends.
Ash In Dream Jacksonville
Edit
While under the influence of El Brujo's hallucinogenic, Ash is told to visit his safe place, which turns out to be Jacksonville. Ash then finds himself standing on a dock on the south side of St. John's River, looking at downtown Jacksonville. The Brujo and Ash's pet lizard Eli show up on the dock to find Ash sitting back with two beers and watching the sunset over Jacksonville. Eli tells Ash that he must take the Necronomicon Ex-Mortis to the place where his journey began and bury the book deep underground.
Deal With The Dark One
Edit
When Ash returns to the cabin, he is offered a deal by Ruby: he can give her the Necronomicon so she can unleash all of the evil contained within it and she'll let Ash live happily in Jacksonville without the burden of fighting evil, or he can kill her and be stuck with the responsibilities of The Chosen One. Ash takes the easy way and gives Ruby the book, and heads for Jacksonville with Pablo and Kelly.
In Ash vs Evil Dead Season 2 Edit
Season 2 will pick up with Ash partying in Jacksonville until he is called back to Michigan by Ruby to help her get the evil she has unleashed under control.
Ad blocker interference detected!
Wikia is a free-to-use site that makes money from advertising. We have a modified experience for viewers using ad blockers

Wikia is not accessible if you've made further modifications. Remove the custom ad blocker rule(s) and the page will load as expected.