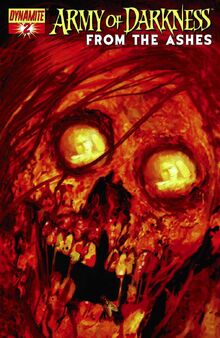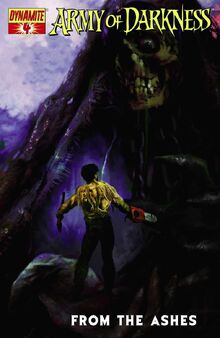 Army of Darkness: From The Ashes is a four-issue limited series from Dynamite Entertainment released in 2007.
The Plot
Edit
After escaping the Marvel Werewolves universe, Ash Williams finds himself in his home universe, only to discover it has been turned into a Deadite-overridden wasteland ruled by Evil Ash Prime. Since it is his duty as the Chosen One to save the world, Ash teams-up with super-powered mutants to fight his way through a apocalyptic Detroit to defeat Evil Ash and his Army of Darkness, save his girl, Sheila, and the save world.
Alternate Cover Gallery
Edit
Next In The Army of Darkness Series Edit
Ad blocker interference detected!
Wikia is a free-to-use site that makes money from advertising. We have a modified experience for viewers using ad blockers

Wikia is not accessible if you've made further modifications. Remove the custom ad blocker rule(s) and the page will load as expected.