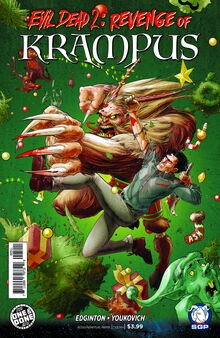 Evil Dead 2: Revenge of Krampus is an upcoming one-shot released by Space Goat Publishing in November of 2016. It will be the fifth book in the "Revenge of" series from Space Goat.
(From official press release) It's Christmas Eve and as usual Ash is alone with a TV dinner, a bottle of Bourbon, and the Skinimax Channel on cable. This silent night gets unholy when Krampus shows up to take away a neighbor kid! It's up to Ash to ring his silver bells and maybe end up under the mistletoe with a grateful mom. Ian Edginton returns to Evil Dead 2 with this twisted Christmas tale in Evil Dead 2: Revenge of Krampus! Normally not one to poke his nose into others' business - and for good reason! - Ash ends up learning there's more than one way to lose!
Ad blocker interference detected!
Wikia is a free-to-use site that makes money from advertising. We have a modified experience for viewers using ad blockers

Wikia is not accessible if you've made further modifications. Remove the custom ad blocker rule(s) and the page will load as expected.