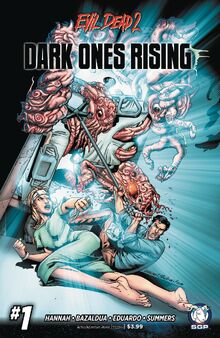 Evil Dead 2: Dark Ones Rising is an upcoming three issue limited series from Space Goat Publishing. It was originally set for release in late August 2016, but has since been pushed back to October 19th. It will be the third chapter in their main Evil Dead 2 series.
Synopsis
Edit
(From Official Press Release): Ash and Annie are back, and the Evil Dead have never been more Evil or more Dead! Back in the world of the living, Annie has suffered an aneurysm. While she recovers from this, we discover that the ritual opened a part of her psyche that was then infiltrated by The Dark Ones. She's unwittingly unleashed them onto the world and their first stop is the Red Knob Civil War Cemetery. Yee-hah!
Alternate Cover Gallery
Edit
Ad blocker interference detected!
Wikia is a free-to-use site that makes money from advertising. We have a modified experience for viewers using ad blockers

Wikia is not accessible if you've made further modifications. Remove the custom ad blocker rule(s) and the page will load as expected.