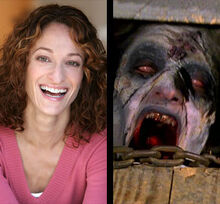 Ellen Sandweiss (born December 30th, 1958) is an Actress that portrayed Cheryl Williams, Ash's sister in the horror movie The Evil Dead. She returned to the role of Cheryl in Ash vs. Evil Dead Season 2.
Involvement With The Evil Dead Series Edit
Other Films
Edit
Sandweiss has played other characters named Cheryl as a reference to her Evil Dead role in other films and TV shows, such as My Name Is Bruce (2007) and Dangerous Women (1991).
Ad blocker interference detected!
Wikia is a free-to-use site that makes money from advertising. We have a modified experience for viewers using ad blockers

Wikia is not accessible if you've made further modifications. Remove the custom ad blocker rule(s) and the page will load as expected.