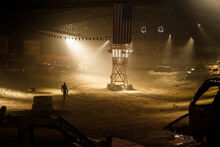 The Elk Grove Destruction Derby is a location in Ash vs Evil Dead. It is where Brock Williams acquired the Delta before it was given to Ash, his son who also happened to have had sex with Lillian Pendergrast in the backseat of the car while it was there.
After the possessed Delta kills Brock, it waits for Ash at the derby where the two have a showdown that results in Ash regretfully disabling his car. During the battle Pablo, tricked by the book, ends up creating a portal to a dark dimension in the trunk of the car where presumably the demon known as Baal escapes.
Ad blocker interference detected!
Wikia is a free-to-use site that makes money from advertising. We have a modified experience for viewers using ad blockers

Wikia is not accessible if you've made further modifications. Remove the custom ad blocker rule(s) and the page will load as expected.