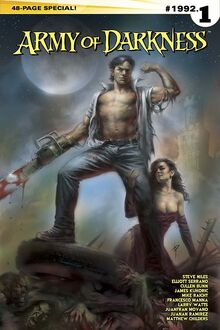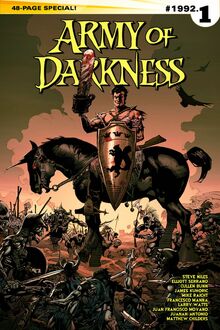 Army of Darkness #1992.1 is a 48-page special one-shot comic published by Dynamite Comics in 2014. The book is a collection of short stories involving Ash Williams and his battles against the Deadites.
Stories Included
Edit
Promotion Commotion: Ash gets a promotion at S-Mart to commemorate one year of no Deadite attacks at the store, but will he live until the end of the day to receive his hard earned promotion?
Rockwellicon: A S-Mart worker with no family or other relatives has recently passed away and leaves Ash his home in Rockwell, but his new neighbors discover the Necronomicon and all hell is accidentally unleashed.
Ash Beyond: A re-imagining of the Evil Dead story set in a technologically advanced future.
Return To The Windmill: Ash returns to the windmill where his tiny counterparts caused mayhem during Ash's first trip to 1300 AD.
Prelude to Ash In Space: A Astronomer in 1350 AD wants to journey to the stars using the Necronomicon.
Next In The Ash And The Army of Darkness Series Edit
Ad blocker interference detected!
Wikia is a free-to-use site that makes money from advertising. We have a modified experience for viewers using ad blockers

Wikia is not accessible if you've made further modifications. Remove the custom ad blocker rule(s) and the page will load as expected.