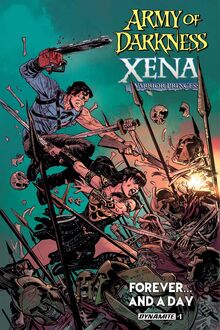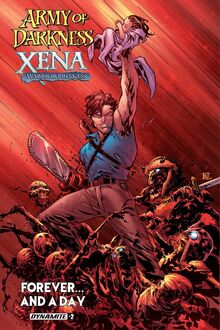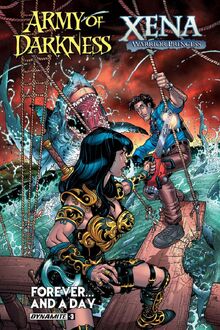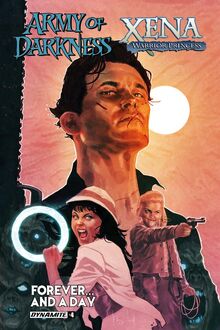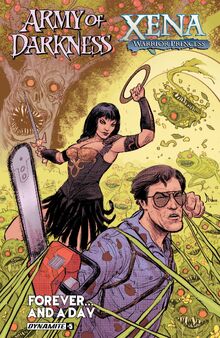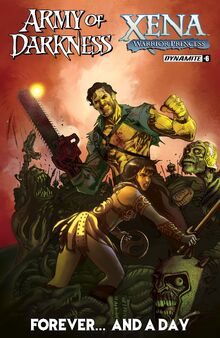 Army of Darkness/Xena Warrior Princess: Forever...And A Day is a six-issue limited series from Dynamite Entertainment, with the first issue released in October 2016. It will be the third Army/Xena crossover Dynamite has released.
Announcement
Edit
(From Official Press Release) "Army of Darkness / Xena, Warrior Princess: Forever… and a Day" #1 kicks off with Xena discovering the world's first jilted lover from the Garden of Eden. Xena will be forced to call on funny man and womanizer Ashley Williams to battle an undead army in a story that will include time travel, romance, and of course, zombies.
"Ashley Williams will always be one of my favorite characters, because there's so many great AOD tales to tell, and he was the first Dynamite title we ever published. You never forget your first," Nick Barrucci, Dynamite CEO and Publisher, said in a statement. "As one of the most unlikely heroes in pop culture, it makes it impossible not to love him... unless, of course, you're a battle-hardened warrior like Xena, who has a little less tolerance for such shenanigans. It's an odd couple pairing that fans of both franchises will love!"
Alternate Cover Gallery
Edit
Ad blocker interference detected!
Wikia is a free-to-use site that makes money from advertising. We have a modified experience for viewers using ad blockers

Wikia is not accessible if you've made further modifications. Remove the custom ad blocker rule(s) and the page will load as expected.